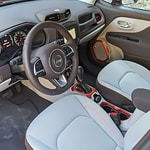 The Jeep Renegade is the compact SUV of choice for those who want a top interior. That's because the Renegade is the rugged SUV that is also designed to be comfortable for those big road trips or long work commutes. Here is a look at some top interior features available on the Renegade.
When you and your passengers hit the road, chances are that they are taking a few things with them. That's why the Renegade comes with a number of storage pockets and other storage solutions. Now, it is easier than ever for you and your passengers to bring magazines, newspapers, devices, snacks, and other items onboard the vehicle.
When you drive a Jeep Renegade, chances are you are going to take it to some really challenging places. That's why the Renegade offers a heated steering wheel. So when you go to a cold and foreboding place, your hands will be nice and comfortable on the steering wheel.