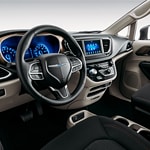 The Chrysler Voyager has been praised for its passenger and cargo space, interior trimmings, technical features, etc. To some of us, none of that matters if its performance is not as good. We are happy to tell you that you will not get disappointed with this minivan. It performs as well as it looks.
The Chrysler Voyager serves a decent 287 hp V-6 engine with nine-speed automatic transmission. Just like we expect, the vehicle is front-wheel drive, but that does not stop it from having a great towing capability. The machine can tow up to 3600lbs. This has wiped out the competition since no other van has recorded such a great capacity.
Fuel economy is a plus when choosing a vehicle and the Chrysler Voyager does not leave that to chance. It records an average of 23 mpg, which gives a competitive advantage against its rivals. The price is great for what the vehicle offers, and we recommend if you are looking for the maximum value for your money.