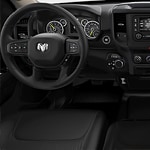 Klamath Falls, OR drivers work hard to remain safe, yet passenger safety depends upon many factors. The Ram 1500 is a lightweight pickup truck with many features that make it a safe choice for your family. The following two features demonstrate how these safety innovations reduce risk during crashes.
The Ram 1500 comes standard with six airbags. Front seat passengers have airbags in front of them and to the side. Rear seat passengers have airbags on both sides of the vehicle as it travels down Medford area roads.
At first glance, the two front airbags appear to be typical models found in any vehicle. A closer look reveals that each front airbag contains an internal vent. This adaptive cushioning technology strategically shifts air pressure for maximum passenger protection based upon impact forces. Talk to our team, and try these features at a Lithia Chrysler Jeep Dodge RAM of Klamath Falls test drive.