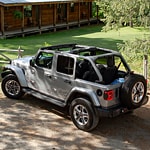 Capability on All Levels Accompanies the Jeep Wrangler Design
The actual design of the Jeep Wrangler was formed around the idea of capability, durability, and versatility. The ability to easily go through, across, and over any terrain thrown in its path is one of the best aspects of the Jeep Wrangler. Though this vehicle is capable in many aspects, its exterior facets are some of its most influential in Medford.
Off-roading capability is a highlight of this Klamath Falls, OR vehicle's inherent design. Unique water fording technology that protects internal components from water damage, heightened ground clearance that aides in travel over large objects, and traction control that helps it stay upright in rough conditions make up some of the most impressive concepts of the Jeep Wrangler.
Not only does is this vehicle up for anything, but it also does so with grace. Suspension and axle articulation that improvises quickly on unexpected terrain elements and precise steering that aides in maneuverability are also concepts that Lithia Chrysler Jeep Dodge RAM of Klamath Falls says are often sought out. The Jeep Wrangler is entirely capable of going wherever you want without hesitation.