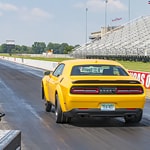 When a car has been on the market for decades, you know that there must be many reasons why people keep buying it. That is certainly the case with the Dodge Challenger. It has so many powerful features attached to it, including the engine that allows you to roar down the street. Now, the interior features are worth noting as well.
To keep everyone comfortable for the entire journey, the Dodge Challenger now has a dual-zone automatic climate control system that you will love. Just set it the way the people on the right and the left of the vehicle like it and you feel the temperature adjust accordingly.
Everyone inside the Dodge Challenger will also love the inclusion of the Apple CarPlay system. This integrates directly with your iPhone to create a complete entertainment and communication system that is state of the art. It will change the way you view driving the Dodge Challenger.